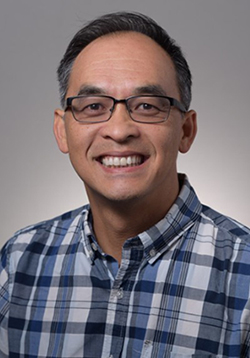 Thank you for visiting us and getting to know us! We know that you have many other offices to choose from. A little about myself. I grew up in Daly City, CA (a suburb south of San Francisco) with my eight siblings. My parents always instilled that we had a great opportunity living in the US, as long as we study diligently and work hard. I thank my parents for encouraging me to become a dentist. After graduating from the University of California, Irvine with a Bachelor's Degree in Biological Sciences in 1990, I was blessed to receive a wonderful dental education at the University of California, San Francisco, School of Dentistry and graduated in 1996. I held a brief position as a Clinical Instructor and Assistant Professor at the UCSF Dental School from 1996 until 2001.
I enjoy most aspects of general dentistry such as aesthetics, using tooth color fillings, veneers, clear aligners to straighten teeth, or short term braces. My passion in dentistry is to educate my patients about their dental health and overall health status, and to provide solutions to treat the dental health issues. My goal is to empower my patients to maintain their dental health and to prevent future dental health problems.
Currently, I am a member of the American Dental Association, California Dental Association, Santa Clara County Dental Society, and the Academy of General Dentistry. I am working on a Fellowship with the Academy of General Dentistry.
Outside of work, I love spending time with my family. I count my blessings everyday for the gift of a loving wife and a wonderful son and daughter. This year I served as a stand-by coach for my son's baseball team, and mostly a chauffeur for my children's swimming, piano and ballet lessons. I am also an active member of my local Christian church family, serving the people in the community. Two of my current hobbies are learning how to play the piano and gardening. I love the outdoors and, depending on the seasons, I enjoy playing basketball, baseball, and snow board.